Especially if all your friends fly off to Far Far Away and you're forced to watch them leave as a show of support...
Papi and Lauren in a place "where there are happily ever afters"
Photo by Manman Angsico
Map and my guy off to Singapore as well for the Singapore Open 2012

Or if you've missed priceless moments like your guy catching a crucial end zone pass or your sister winning yet another international award in her field...
Team Pilipinas bags the gold!
My guy and Nina showing off their gold medals
Photo by Map Pangilinan
Also in Singapore, Milton and my sister
celebrating the fact that they're officially one of the country's top young creatives!
...it sucks big time.
Even if you can afford it...
...the instability of self-employment just doesn't let you go on a splurge-today-because-payday-is-just-around-the-corner mode.
You always think twice before spending because you just don't know when the next 'lean days' will hit.
I was asked before by Solar Business Correspondent Kim Go if I already consider myself successful...
I had to really pause first before answering.
First thing that came to mind was 'No...'
Since I have a clear vision of where to take Popjunklove, I knew deep down that my sister and I still have a long way to go.
Not wanting to sound negative though, I just said...
"If I can already sleep at night without fear that I might not be able to make ends meet the following day, then that's the only time I can consider myself successful."
Report by Kimberly Go, Solar News, August 2012
Halfway through the sentence though...
I remembered all the leaps and sacrifices we've made...
Friends we've gained and people we've indirectly inspired during our five years in business...
And immediately...I felt like I needed to qualify my answer...
"I don't consider myself unsuccessful though...
The journey to success is like a long marathon with mini-finish lines along the way.
Arriving at each finish line is success in its own right and I believe my sister and I have already reached a couple."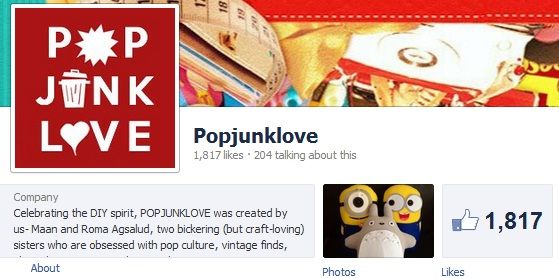 From just 300 last year! Wohoo! :)
Remembering this eureka moment in one of my interviews made their Singapore vacation (without me!) a bit bearable...
Consistency and focus are keys to success so I just did what I always do...whether I am up or I am down.
I made.
Who says they're the only ones who can go on an adventure? :)
Pin It Now!