I have 4 siblings and as the eldest, I sincerely believe, I'd faint if my mom decides to have another one! (Mom, seriously???)
However, when I saw Ella and Geli of Pop! Pins approaching our booth during the recently concluded 10A Alabama Arts and Crafts Fair, I changed my mind...for real!

The two wore the quirkiest soda bottle cap pins in the whole wiiiiide universe!!! I want to adopt them and order them (as the eldest) to upcycle all our bottle caps at home, "Now! (or I'm going tell Momma you two broke her favorite vase!)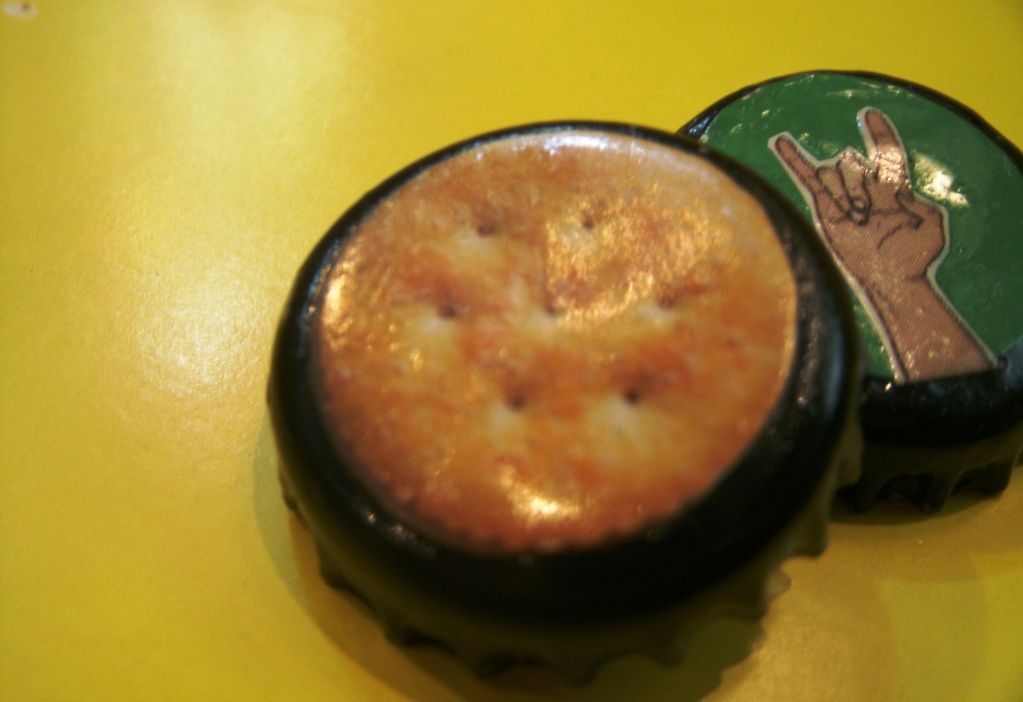 Unfortunately, they are not my sisters and they did not break "our" mom's vase.
Desperate, I scheduled a meet up with them to ask if they're up for adoption...I mean...to get to know them better.
And oh, they're this blog's first visitors at
the Crafters' Corner
so let's welcome them with kisses and hugs, shall we?
Kisses and huuuugs!!!!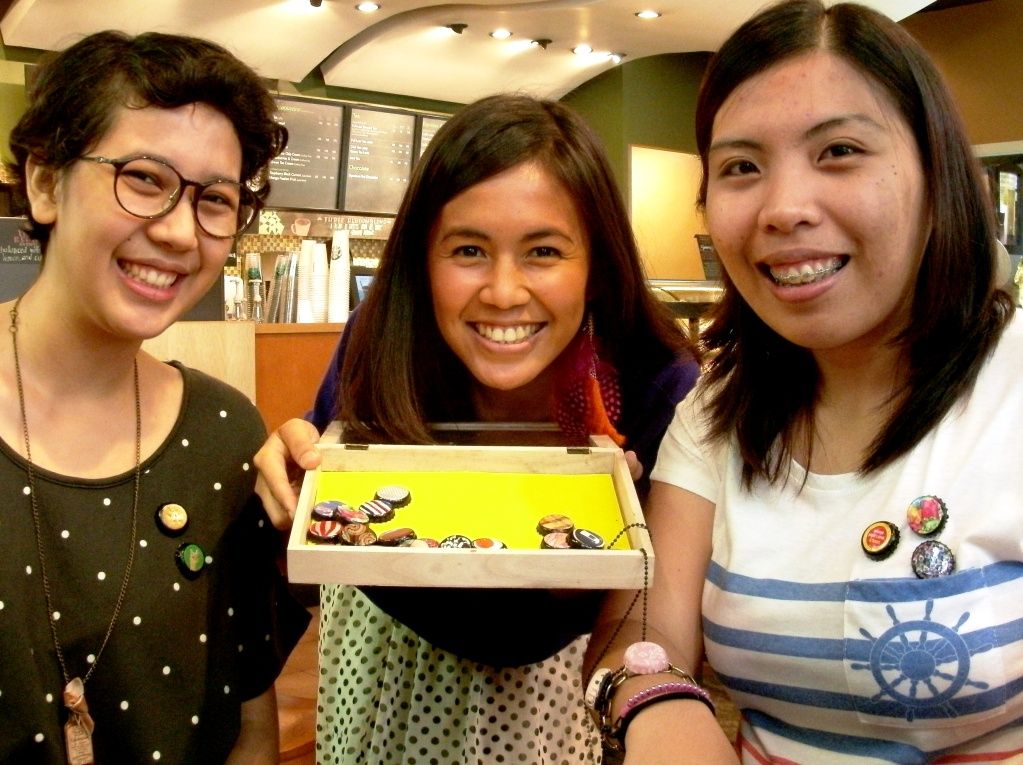 Ella, moi and Geli
I'm unilaterally declaring myself as your new BFF!

ELLA'S 'PUNK' PHASE
Unlike me and my sister, it was not the need for hard cash that pushed Ella to do her first Pop! Pin. According to her, it was her teenage determination to be different that pushed her to "make" stuff. She called it her "punk" phase...the time when she preferred to make her own stuff just so she wouldn't conform to anyone's idea of trend. It was during these rebel years that Pop Pins! was brought to life.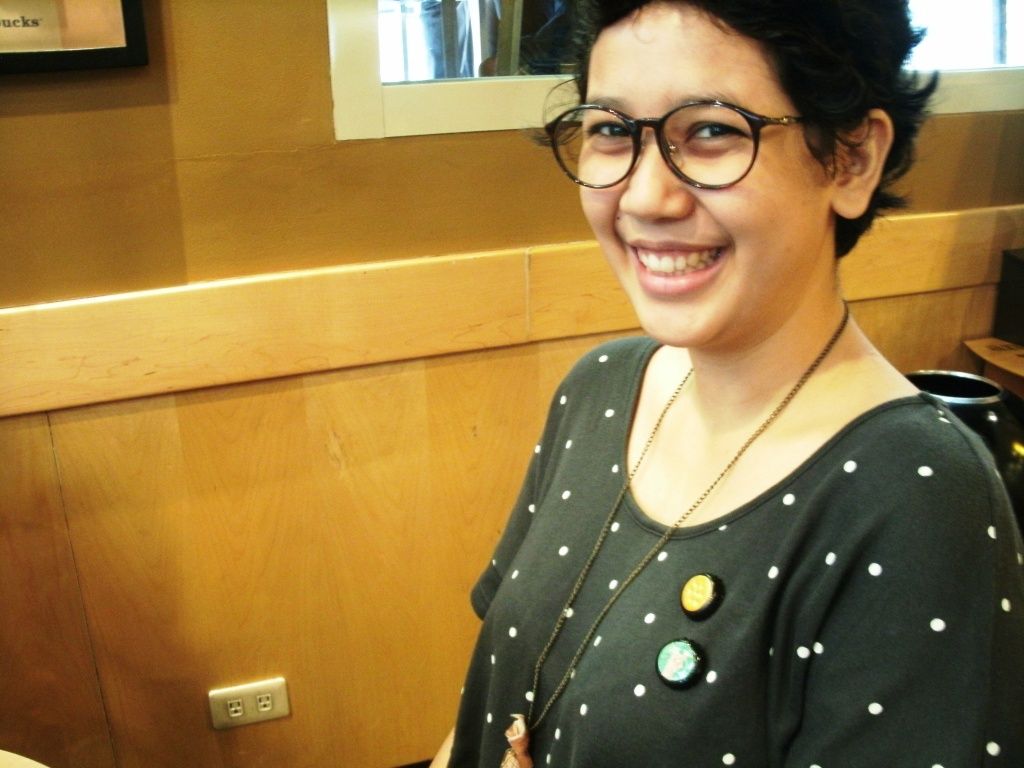 Pop Pins! are old bottle caps, upcycled into pins with the quirkiest prints! No two designs are exactly the same so for those dreaming of a "Fita" Pin just like Ella's...Good luck (to me)!!!
FROM ELLA TO ELLA & GELI
Like most crafter-artists, giving structure to all her ideas was Ella's main problem. Rather than plan, she just continued making pins without any real thought to the direction of her new found hobby/business. Even her first bazaar participation was out of whim.
This is where her office mate, Geli stepped in. Like me, Geli had the same reaction when she saw Ella wearing her Pop! Pins. Geli who has experience in buying and selling online pushed Ella to make more, first for her office mates then later on, for other bazaars.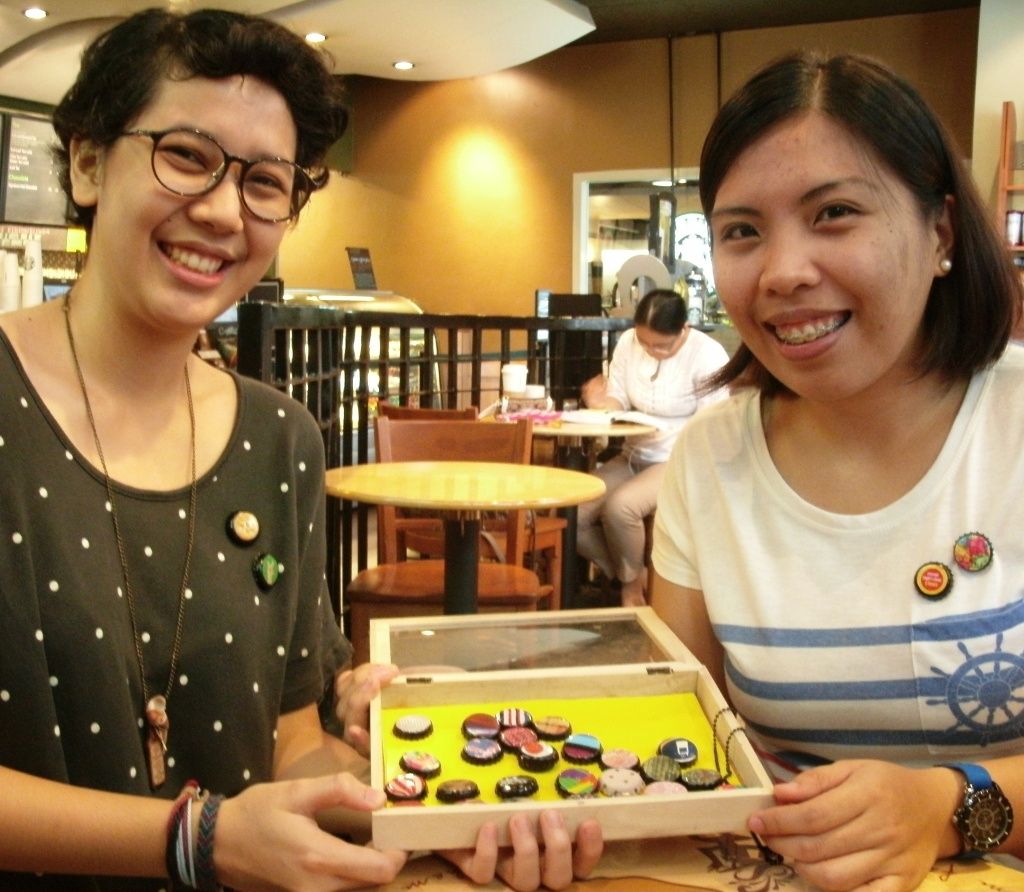 From Ella to Ella and Geli, Pop! Pins transformed from a simple hobby to a full-blown business. Ella toyed with ideas and Geli gave them structure. Together, the two became an inseparable duo who vowed to continue improving their craft to provide their fans with pins of the highest and quirkiest quality!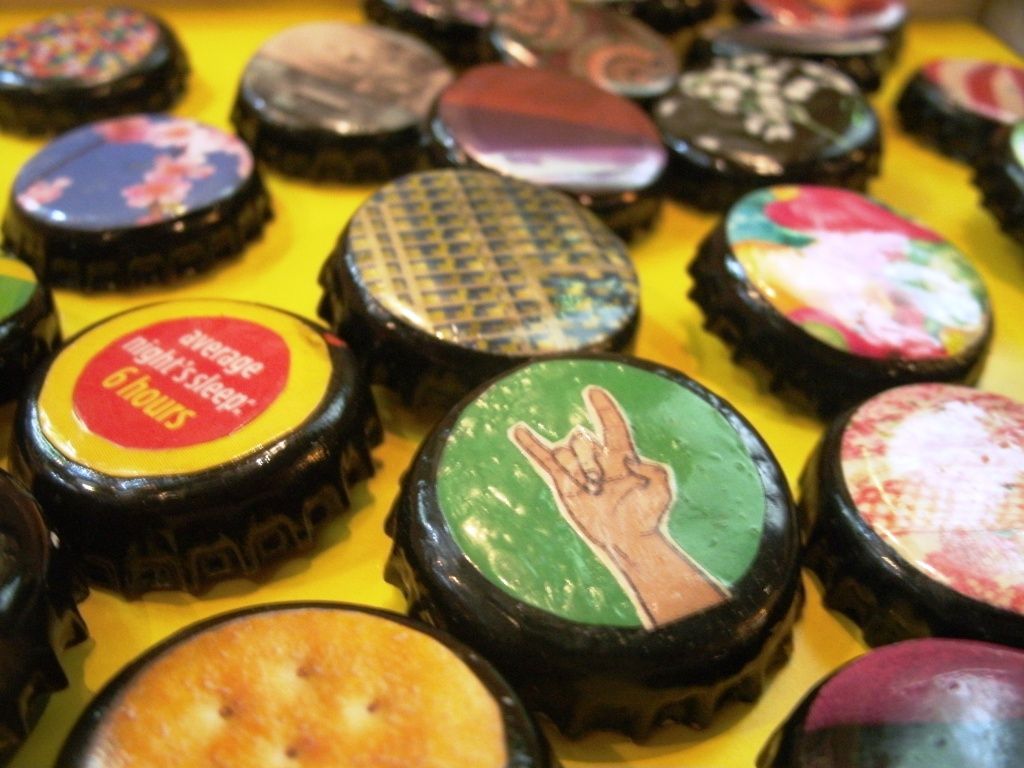 P25!!!! CRAZZZYYYY!!!!
Right?!
Asked about the logic behind their crazy pricing, the duo said personally, if they were in their customers' shoes, they wouldn't pay much for a product made from an old bottle cap. I don't know whose shoes they're talking about, but if I were their customer, I wouldn't mind paying more than P25 for their adorable pins! I brought a couple just to prove my point!
LESSONS IN A YEAR
The two shared a funny anecdote about how they used to write notes on a paper to remind themselves that success doesn't come to lazy people.
Ella makes it a point to "make" stuff everyday, whether it's a new item for Pop! Pin or a
simple doodle.
She doesn't have to be an expert calligraphist to doodle, she said.
Pop! Pins Word Art
Geli, on the other hand, reminds herself constantly not to over analyze. She admits that while she enjoys giving Ella's wild ideas structure, she sometimes loses the sense of freedom and happiness from "making art" when she gets stuck in the how-to's of business.
FUTURE FOR POP! PINS

Their pins' unbelievable price range has opened up a lot of collaborations for the duo, which explains why both are busy busy with all of their present DIY projects. Who knows? The two might just release a Pop! Ring or a Pop! Earring!
Oh! Don't you just love handmade?! The possibilities are endless!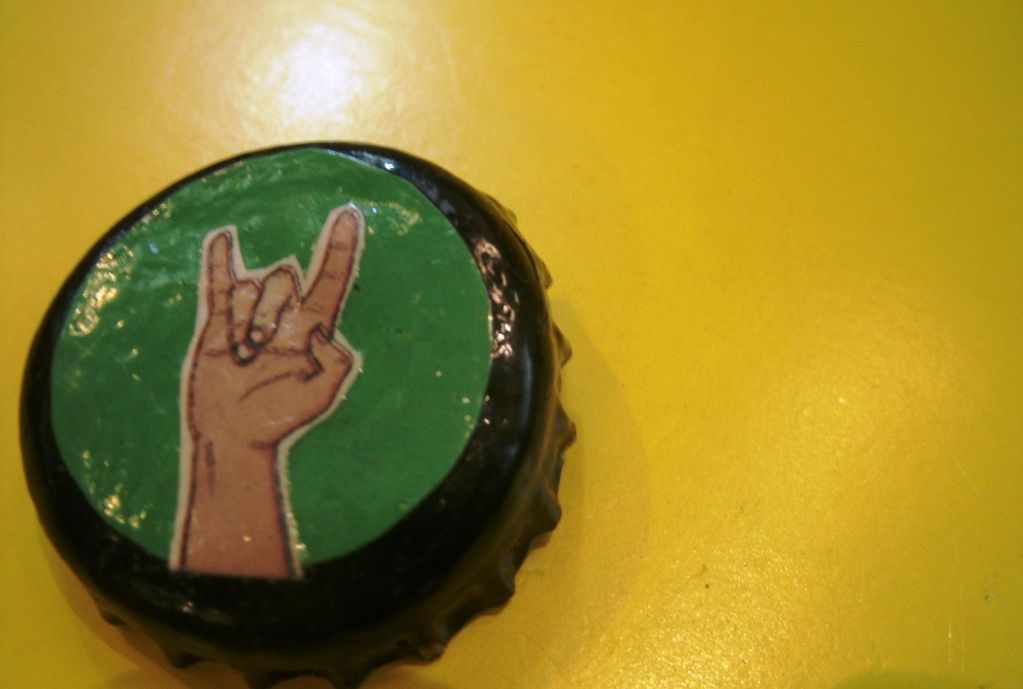 Rock on Pop! Pins!!!
If you're desperate to have your own Pop! Pin though and cannot wait (like me)... LIKE them on
facebook
and leave them a personal message there!

And oh...in case you're wondering, yes, they customize too. :)
(Sooo...do you accept like other types of offers too? Like... to be my sisters, for instance?)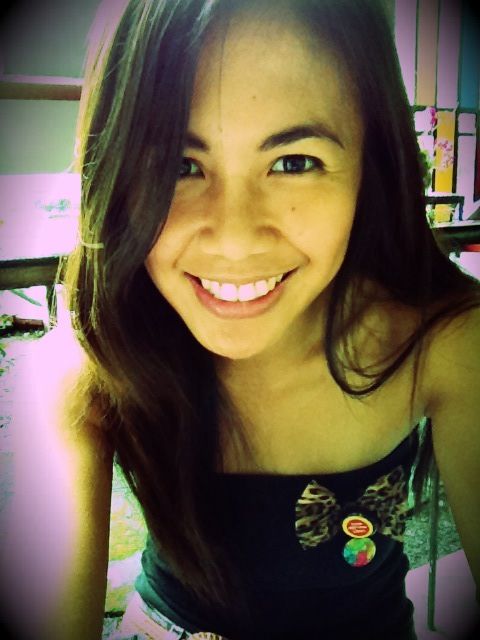 Officially a Pop! Pin Addict,
Pin It Now!